Talks, lectures and LIGHTtalks
A scientific meeting point
for young students
ICFO gives and organizes talks in different formats that are directed to different target audiences. We give the talk in or outside ICFO, at schools, museums, congresses, etc. To see our upcoming talks, please visit the Upcoming Activites page.
LIGHTtalks consist of an array of live presenters from the scientific, entrepreneurial and industrial communities who speak about different aspects of photonics. The aim of these talks is to promote the importance of photonic technologies to the public, with a special focus on students, potential entrepreneurs, entrepreneurs and industry.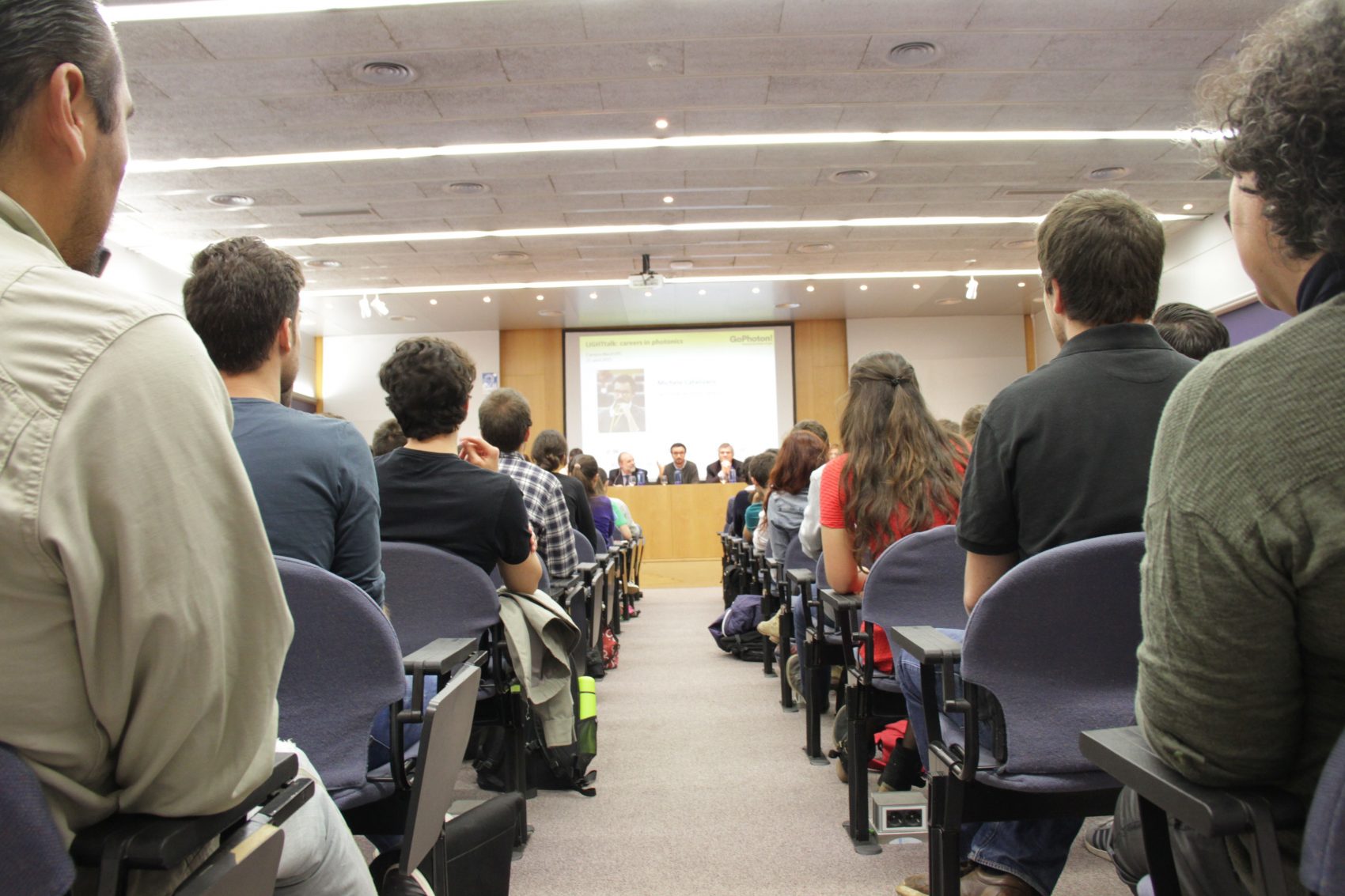 LIGHTtalks: CAREERS IN PHOTONICS
Talks directed to university students introducing the myriad of professional opportunities that the field of photonics poses are destined for university students to highlight the importance of Photonics as a career option, its potential, and the fact that people with different backgrounds have come to work in photonics, the same as that people use photonics to work in different disciplines. The goal of the talks is to create awareness among the students about the potential of Photonics thereby encouraging them to consider Photonics as a career choice.
LIGHTtalks: LIGHTING THE FUTURE 
Destined for entrepreneurs, business school students and also a broad public audience. These highlight how photonics technologies (considered key enabling technologies by the European Commission) have changed the world and will continue to do so in the future through areas of communications, healthcare, improved energy efficiency, innovative lighting design, improve quality of life, preserving cultural heritage, etc.
LIGHTtalks: THE POWER OF PHOTONICS
A series of inspirational talks focused on the multidisciplinary applications of photonics and their use in the industry. The goal of the talks is to increase the interest of industry in photonics, encourage established businesspeople to use photonics technologies and create open channels of communications with established businesspeople currently outside of the photonics arena.
Creating publications for different audiences ICFO reaches out to all ages through books and other publications that aim at immersing readers in the fascinating world of photonics. FROM THE BIG BANG TO LASER EXPLORERS IN SPACE lluminado and Lucilda is a series...
read more