discover icfo
from wheverever you are
Many things have changed since March 2020, but not ICFO's commitment to society.
In order to adapt to the actual situation, we have created a digital, interactive and multidisciplinary activity that allows us to keep ICFO's doors virtually open so that young people and adults can discover our institute and photonics.
Thanks to the ICFO Decide Game, you now can meet ICFO scientists and immerse yourself in the realm of ICFO and photonics from wherever you are and in a safe way.
It was one of the activities that I have liked the most in the four years that I have been a teacher.
I found it to be a very interesting field and everyone explained it in a way that the students understood easily.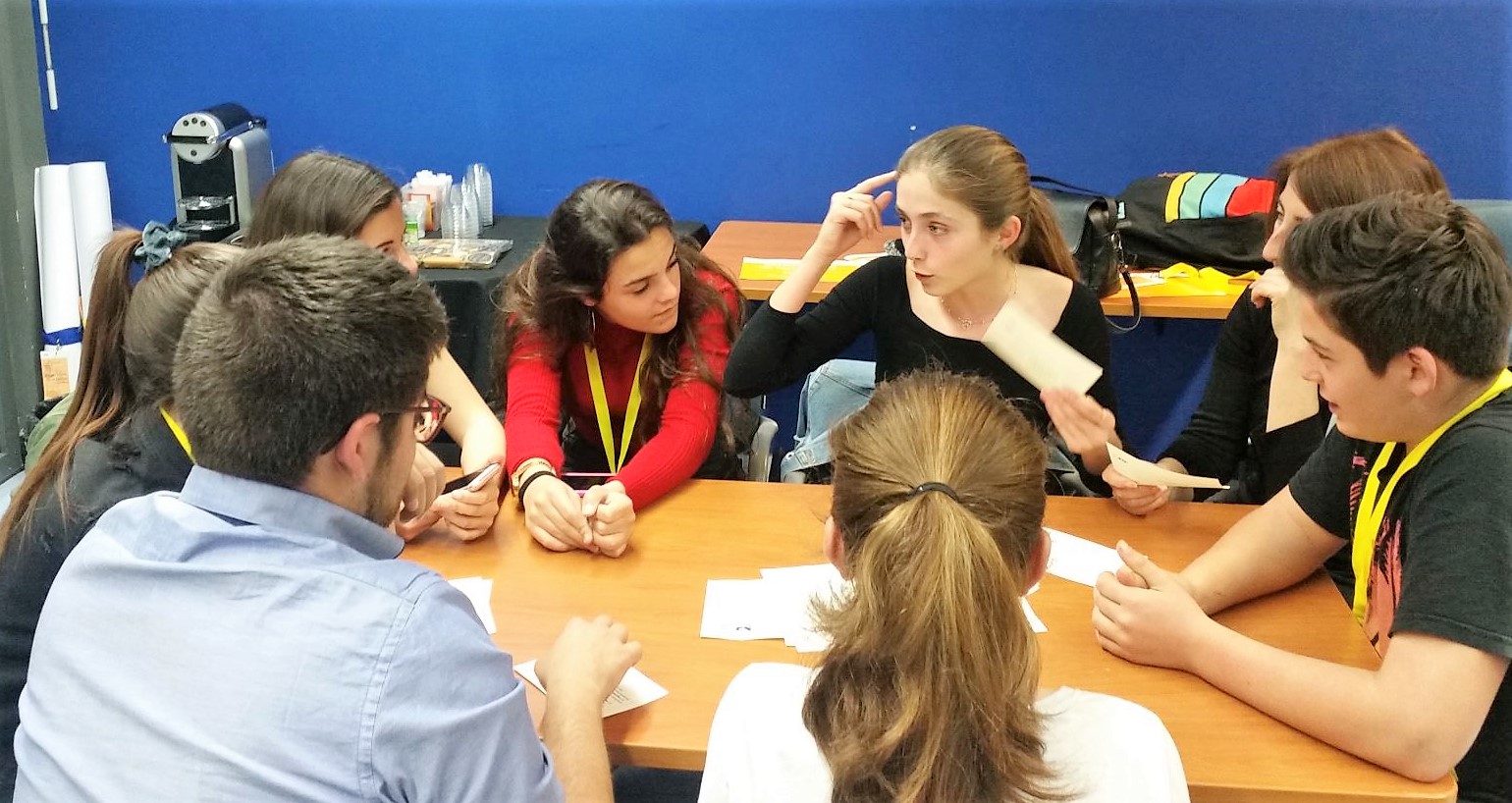 Imagine being part of the commission that has to decide how to invest the money for photonics research at European level for the coming years: knowing that photonics benefits society in many different ways, how you would distribute funds among different fields research in photonics?
With ICFO Decide Game you will put yourself in the shoes of the policy makers responsible for research and innovation. Throughout the activity, you will obtain the essential information to discuss about photonics and the importance of science and research in our lives, discover cutting-edge scientific projects that are being developed at ICFO, talk to the scientists who work there and make a strategic decision in agreement with the rest of the group.
Participants are divided in small groups of 4-6 people. The activity is composed of 6 phases: in each one of them, you will discuss a different aspect that will help you reach the final decision.
The ICFO Decide Game is based on PlayDecide and allows you to discover ICFO and the power of photonics in an entertaining and dynamic way.

phASE 1. Story Cards
Stories of fictional characters that refer to facts of everyday life where photonics play a relevant role. phASE 2. Info Cards
Examples of research projects that are developed at ICFO and general information about our institute.

phASE 3. Thinking Cards
Reflection topics about the role of scientific research in society.

phASE 4. Meet the expert
A sample of the diversity of research projects and people at ICFO. Meet a scientist and ask him/her questions.

phASE 5. Decision
Each group must agree and decide unanimously how to distribute the funds dedicated to photonics research in times of crisis.

phase 6. share your opinion
Each group presents and defends its decision in front of the other groups.
You don't need any prior knowledge of ICFO or photonics to participate in the ICFO Decide Game: during the activity you will receive all the necessary information.
The ICFO Decide Game is designed for people over the age of 14: if you are looking for an interactive activity to discover ICFO and photonics that suits all ages, you can reach us directly (outreach@icfo.eu) or through the Skype a Scientist program.
The ICFO Decide Game is designed for a maximum of 42 participants divided into small groups of 4-6 people. You can book a session for your group or class or you can also discover ICFO at your own pace by downloading the materials for the ICFO Decide Game and do it whenever you want. You can also sign up individually for the session open to the public (we will assign you to a group at the beginning of the session) that we are organizing for the Day of Photonics.
The ICFO Decide Game is free of charge.
As a celebration for the Day of Photonics, we organize a session of the ICFO Decide Game where you can sign up individually.
The activity is completely online, with each participant connecting with their own device with microphone and speakers or headphones. The ICFO team will form the groups, facilitate the session by explaining the different phases and answering any questions that may arise.
The session will be in Spanish.
October 21, 2021 – 18:00-19:30 CEST
Contact us at outreach@icfo.eu should you have any doubt.
If you are a teacher or coordinator of a group of people over the age of 14, you can book an ICFO Decide Game session facilitated by the ICFO outreach team.
It takes 2 hours to complete an ICFO Decide Game: we recommend to do it in one session, but it's possible to split the activity into two 1-hour sessions if necessary:
2 hours connection to ICFO – no prior work required:
we will connect from ICFO to guide you during the activity, explaining its different phases and answering your questions.
1 hour offline + 1 hour connection to ICFO:
during the first session, the teacher/group coordinator facilitates autonomously the first three phases of the activity with the materials and instructions provided by us;
during the second session, we will connect from ICFO to facilitate the last three phases of the activity and answer any questions that may have arisen during the first three phases.
There are two possible formats of the ICFO Decide Game, depending whether the participants are together in the same room or not:
Hybrid format:
The participants are all in the same space and the ICFO team connects via video conference.
Minimum requirements: a table with chairs for each group; an ICFO Decide Game card deck (you can download the pdf to print them here), a computer with speakers, microphone, large screen, internet connection.
Online format:
participants connect with their own device to the activity individually.
Minimum requirements: one device with microphone and speakers or headphones connected to the internet for each participant.
You can choose one of the following languages: Catalan, Spanish and English.
As a teacher or group coordinator, you will have access to all materials and additional information in advance.
Book a group session following this link. If there aren't any available sessions, you can join the waiting list selecting one of the full sessions or try to facilitate yourself the ICFO Decide Game in your group with the materials and instructions available upon request.
Contact us at outreach@icfo.eu should you have any doubt.
The ICFO Decide Game is an entertaining interactive activity to discover ICFO and the power of photonics. You can organize a session whenever you want: contact outreach@icfo.eu to obtain all the materials you need.
You only need a group of at least 4 people to start.
Creating publications for different audiences ICFO reaches out to all ages through books and other publications that aim at immersing readers in the fascinating world of photonics. FROM THE BIG BANG TO LASER EXPLORERS IN SPACE lluminado and Lucilda is a series...
read more